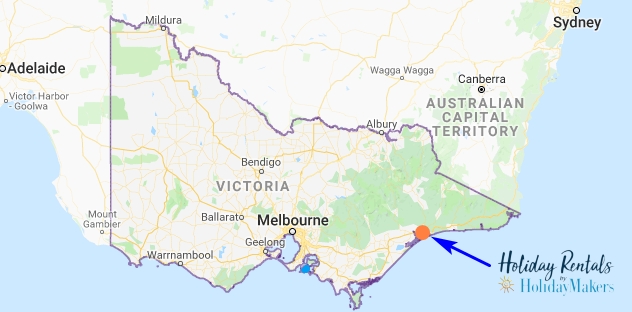 Kalimna
Lake Bunga
Metung
Metung is delightful. A small village on a narrow peninsula that on one side curves around the gentle shores of Bancroft Bay, and on the other looks out across the vastness of Lake King. Originally a fishing port, today Metung is a perfect place for holidaymakers. A fabulous range of houses, from simple cottages to beautiful, architect designed homes. From houses on the waters edge with their own boat mooring, to houses set in the privacy of the bush where you can wake to the call of birds. Boating and fishing are the main activities in Metung. There's good dining in the village cafs, and a safe swimming beach on Lake King.
Lakes Entrance
A bustling fishing port, an esplanade of shops and cafes, safe swimming beaches, and a short walk to the ocean beach - Lakes Entrance truly deserves its reputation as a great place for family holidays. There's so much to do: fishing and swimming, off-the-beach sailing, paddle boats and mini golf, picnics, boat trips and long walks. The fishing fleet, moored adjacent to the main street, is a great sight. It's also the source of abundant seafood, which can be savoured in the restaurants, or bought fresh from the Fisherman's Co-op for the barbecue. In season, just-caught prawns are sold directly from the trawlers.
Lake Tyers Beach
Lake Tyers is separate from the Gippsland Lakes, about 10 minutes drive east of Lakes Entrance. State forest with fabulous bushwalking trails gives way to the sheltered water of the lake, and the pristine magnificence of the coast. Lake Tyers Beach is an ocean beach holiday experience. Easy access to the surf, for fishing or surfing, the ocean also provides a majestic backdrop to the town and is visible at every turn. The lake is sheltered and safe for swimming, and separated from the ocean only by the beach. From time to time, the waters of the lake break through to the ocean, and the prawns rush in!